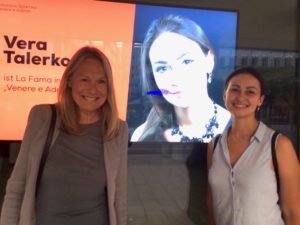 Vera Talerko, who received both the First prize and the Audience prize in the WSIMC competition 2022,
has just made a brilliant debut at the Hamburg Staatsoper! Vera appeared in the world premiere of Salvatore Sciarrino's
"Venere e Adonis", directed by the Opera Director himself, as well as our juror, Georges Delnon, and chief conductor
Kent Nagano. A 70-minute long and strong drama – based on the myth – with a very sparse musical costume that
makes great demands on the international ensemble.
First Prize  Vera Talerko, Second Prize Rebecka Wallroth,
Third Prize Yohan John Ji, Stenhammar Prize Erica Back,Mozart Prize      Sarah Yang, Audience´s Prize  Vera Talerko 
Zaza Gagua, Bass, Georgien
Yohan John Ji, Baritone, Southkorea
Abigail Levis, Mezzosoprano, USA
Clarke Ruth, Bass, Canada
Marie Dominique Ryckmanns, Soprano, Tyskland/Frankrike
Emma Sventelius, Mezzosoprano, Sverige
Vera Talerko, Soprano, Lettland
Rebecka Wallroth, Mezzosoprano, Sverige
Yauhenia Babich,
Erika Back,
Ang Du,
Sebastian Duran,
Zaza Gagua,
Helena Gedda,
Yohan John Ji,
Leo Jaewon Jung,
Joonyeop Kim,
Kyeyeong Kim,
Taeseup Kim,
Victoria Seungri Kim,
Cecile Lastchenko,
Dongmin Lee,
Abigail Levis,
Martin Lissel,
Assuntha Overvliet,
Chandai Park,
Heejin Park,
Clarke Ruth,
Marie Dominique Ryckmanns,
Daniela Stoll,
Emma Sventelius,
Vera Talerko,
Rebecka Wallroth,
Chen Xu,
Sarah Yang,
After 2 years with Covid-19, its finally time for competition!
An excellent opportunity to meet our coming opera stars!
Competition days,  June, 10-15 10.30-18.00  ( Free entrance)
Final Concert Friday 17 June 6 pm. with The Norrköping Symphony Orchestra and 8 finalists
Tickets www.norrkopingssymfoniorkester.se
On June 10-17,2022, the Wilhelm Stenhammar International Music Competition (WSIMC) will be held for the eight time in De Geerhallen, Norrköping. 121 singers, from 27 countries, have applied to the competition, and a pre-jury will now select 70 singers to perform for the Swedish audience.
The WSS board, has today stated, that they don´t see, any possibility, to allow the citizens of Russia to participate, either as competitors or jury members,  in this years competition.
Russia´s attack on Ukraine poses a serious threat to the European security order, and the right of small states to independence. Virtually all states, companies and international institutions, choose to isolate Russia today, and our board is in solidarity with that action, says chairman of the WSS board, Claes Egnell.
Due to the continued spread of Covid-19, the current guidelines issued by health officials, and the restrictions introduced to eradicate the disease worldwide, Wilhelm Stenhammar International Music Competition, has decided to postpone WSIMC 2020 to June 2021. This decision was taken by the WSIMC board April 17, 2020.
We are of course very disappointed by this development – we have been working very hard with all the planning for several months. But, it was with great satisfaction, we noticed, that our "pre-jury" had selected 70 excellent singers for the competition in June. We are therefore very pleased, to be able to offer, all the 70 selected singers, the opportunity to participate in the competition 2021 instead of 2020 and with the same rules and terms.
Preliminary schedule 2021
10 June          Registration
11-13 June     Round 1
14-16 June     Round 2
17 June          Rehearsal finalists and Norrköping Symphony Orchestra
18 June          Final Concert
It´s amazing that 120 singers, from around 30 countries, have signed up for WSIMC 2020!
We are also very happy to announce, that for the first time, the final concert on June 10, 2020, will be broadcast live in The Swedish Radio P2. In addition to that, all the competition days will be "streamed" on our website – which means that parents, teachers, friends and others,  can listen to "their" singers from all over the world. This is a big step forward into the future of the competition!